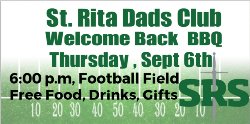 What

Dads Club Welcome Back BBQ

When

9/6/2018, 6:00 PM

Where

Football Field
Our Annual Dads' Club Welcome Back BBQ will be Thursday September 6th at 6:00pm. As in previous years, the event will be located on the SRS Football field (end zone).

We will have guest speakers to talk about the upcoming school year that include, Fr. Josh, Dr. Walsh, Kevin Barnicle, Adam Kobos and others.

This event features free food, drinks and gifts provided by the Dads Club.

New dads, this is a great way to come out and hear from the leadership of our school and meet other dads.