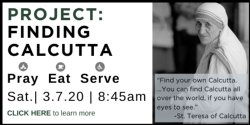 What

Project Finding Calcutta

When

3/7/2020
March 7, 2020 - 8:45 am
Dallas

Would you like to make a difference? Are you looking for service opportunities for your family?
Join us for a half day of

service in the spirit of Mother Teresa

. We will begin with fellowship over breakfast at 8:45 a.m. in room D-247 (just behind the bell tower) by entering through the ministry entrance and then split into smaller groups to go

visit the elderly

at a nursing home,

help the Missionaries of Charity sisters

in town,

give company to the lonely

AIDS patients or

feed the homeless

at a soup kitchen. For those who can make Mass, join us in the Sanctuary at 8:00 a.m.
This is a family-friendly event, so feel free to bring your kids along. Let us teach them to do the Corporal Works of Mercy from a young age.
Meet us at
8:00 a.m. for Mass at St.Rita's Church
(OR)
8:45 a.m. for breakfast and service at the Parish Dining Hall
(12521 Inwood Road, Dallas, TX 75244).
"Find your own Calcutta. Find the sick, the suffering, and the lonely, right where you are — in your own homes and in your own families, in homes and in your workplaces and in your schools. You can find Calcutta all over the world, if you have eyes to see."

– Mother Teresa